0 – 2 years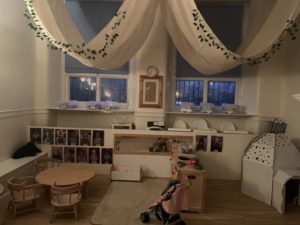 Our 0-2 room caters for 12 children.
Our two spacious baby rooms provide a happy and relaxed atmosphere that allows children to feel comfortable and confident when leaving their parents.  
Each day the two baby rooms are set out with various toys and experiences.  We have building blocks, shape and colour sorters, spinning tops, balls, musical instruments, soft play, rattles etc.  All are safety checked for this age group.
The children are given the opportunity to explore new experiences, for example wet sand, pasta, water play, painting, play dough, heuristic play, all under close supervision encouraging children to become aware of their senses through discovery and exploration of a range of different experiences.
Our staff in our 0-2 room plan activities using the new "Pre Birth to Three Document" published by the Scottish Executive.   
We have a 'Key Worker' System in place that provides stability for both children and parents.  We try to follow children's home routines as much as possible, as it helps us to build trust and confidence between child and carer.  Each child has their own individual "Learning Story" which tracks the child's progress throughout their time in nursery.  These can be accessed by parents at any time.
For sleeping arrangements the children have cots available however when staff and parents feel they are ready every child has their own bed with their own blanket and sheets in line with current infection control procedures and staff have in house laundry facilities to keep hygiene standards high.
Parents are asked to provide nappies, wipes and any cream. We have a separate nappy changing room which allows the children to have privacy.
We provide daily report sheets for our parents that details their child's day including how much they have had to eat/drink, activities they are took part in, how long they slept and what their nappies have been.
Our loose parts play room allows the children to be able to explore through their senses using different objects such as pots, pans, spoons, wooden objects, natural objects such as acorns, conkers etc 
Why to choose a Hyde'n'Seek Nursery