Oral Health
Research evidence and dental experts agree that establishing a toothbrushing routine at an early age can prevent tooth decay in childhood and later life. The Smile too programme is a Scotland wide initiative to help improve the health of our children's teeth.
Children in the nursery take part in the Smile Too! Programme established by the NHS oral health action team. Our Staff undertake daily supervised tooth brushing for all children, regardless of their placement status. ie.part time or full time.  Children brush their teeth twice daily using their nursery toothbrushes for two minutes. The brushes are kept in 'brush buses' for infection control purposes with the child's name on it and a picture to help them recognise it.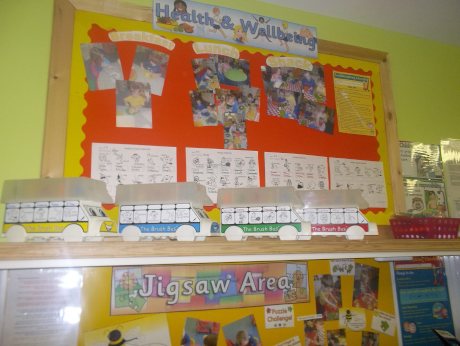 Children participate in regular activities about oral hygiene and are all very aware of what they do and why.   An allocated member of the oral health action team visit's the nursery regularly to monitor the programme and ensure staff are following procedures which they are annually trained on as well. In the annual training event staff also learn about children's oral hygiene and what they can do to improve it, giving us useful information to pass on to parents as well, such as the sugar content of certain foods and drinks, when to start brushing etc.
We also support Community Nursery Nurse officers from the Oral Health Team to raise parents awareness of the importance of good oral health and positive health promoting behaviours. In partnership with the health team, every child receives a 'zippy bag' containing a toothbrush and tooth paste twice per year.
Why to choose a Hyde'n'Seek Nursery