3 – 5 years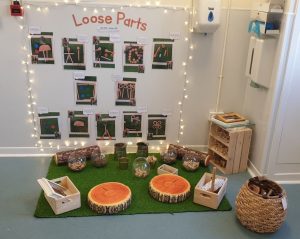 The 3-5 department follows the curriculum "A Curriculum For Excellence" which is for children from 3 to 18 which aims to enable all Scottish people to become Responsible Citizens, Successful Learners, Confident Individuals and Effective Contributors. This is supported through 8 areas of the curriculum, main focuses being Language and Literacy, Health and Wellbeing and numeracy and Maths.
The children also use 'Big Book Planners' to enhance their learning. The children pick the topic, then say what they already know about that topic, also saying what they would like to know. Staff then plan activities relate to the chosen topic, evidence of which is all stored in the 'Big Book' with details of what the children are doing and what they are learning with photographs and comments from children. Evidence of children's achievements and development are all stored in their individual 'Learning Stories' which are on the computer.
The 3-5 room also has an interactive smart board which allows the children to explore technology for different uses. The children do have access to the internet however it is always supervised and limited to 15 minutes per day. The internet also has relevant safety restrictions.
The 3-5 room has three rooms which between them can cater for 30 children. One room allows children to be creative and messy with painting, water sand etc and also has a science maths area. The other room has the ICT area as well a book area, writing area, puzzles and games, imaginative play, music and construction.
Hyde n Seek is an 'Assessment is for Learning' establishment.   'Assessment is for Learning' is a national initiative for schools and nurseries to provide a more coherent assessment system to support children learning. Staff at Hyde n Seek has implemented a variety of these strategies such as the 'Learning Tree' this is where children put comments about what they have learned on a leaf on the 'tree' parents, children and staff can watch the tree grow as the children's knowledge expands and the more leaves are added.
Staff encourage children to give feedback on their own and others work as well and have thinking time when answering questions. Celebrating children's successes and achievements on our 'I Can…..' wall. All these and more help challenge and support children in our care.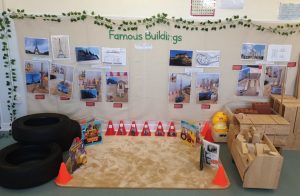 Child sized toilets outside the room allow children independence and some responsibility.
Children are given opportunities everyday to play outdoors in the garden, as well as having physical benefit's the activities can also be taken outdoors for children to access the curriculum in our gazebo. Children in the 3-5 room also go on frequent outings to various places in line with our themes, workshops are available in all Glasgow museums which we frequently visit.
Every month we incorporate citizenship into our theme and have a buddy system for younger or new children, where they have an older child as a 'buddy' to help them settle in to our room.
We are also part of the Global Citizenship programme and are partnered with a nursery in Australia called First Learnings Nursery in Brisbane.
The children look after our planet through the eco schools programme in which we recycle learn about global warming and have an eco committee.
The children are also part of a children's committee where they can decide what and how they change the nursery after all it is their nursery.
Children sign in their names every morning giving them opportunities to letters and their sounds and to recognise their own names attempting to write it.
Children are encouraged to eat healthily and have a healthy eaters chart in their dining room, where they get a star if they eat all their lunch.
Staff are professional and work hard to build trusting relationships with children and their families giving extra support where required.
Children in the nursery are happy and secure and engage well with staff and the experiences offered.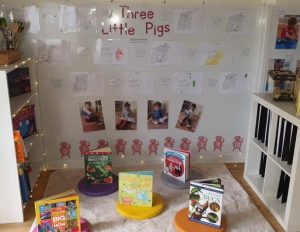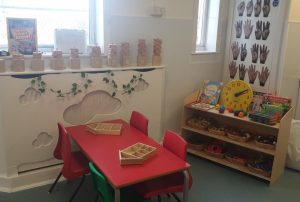 Why to choose a Hyde'n'Seek Nursery