2 – 3 years
The Butterflies – 2-3 room
Our 2-3 age group accommodates 2 large playrooms incorporating the five key strands of development from the Birth to Three framework and now the components of the Pre-birth to three also.
These are; Relationships, Responsive care, Respect and Rights of the child.  This, combined with our professional, caring and enthusiastic staff team makes a friendly and welcoming ethos and a stimulating environment for your child. We encourage the children to express themselves through a wide range of activities and the rooms are designed to encourage the children to further develop their social and emotional skills as well as promote independence.
Our book area encourages communication and language development. Our children love to sing nursery rhymes and pick their favourite monthly. Our music area has a variety of instruments for the children to play and there are lots of opportunities for song time.  All this encourages their expressive and aesthetic develop as they learn to role-play and invent their own music.
We encourage writing through our mark-making area
Our puzzle table we have a variety of jigsaws, puzzles and games tailored to different stages of development, to improve hand-eye co-ordination, stimulate their minds and encourage perseverance; overall developing their knowledge and understanding of the world.
The large role play corner is based as a home corner but can be adapted to suit our monthly theme.
The messy area has sand and water to encourage exploration of the senses and to aid children's understanding of the different properties of materials as well as an art & craft table where you child will have the opportunity to investigate and use a variety of media and techniques such as painting, drawing & printing or modelling with paper Mache, junk or clay. Art & craft opportunities allow the children to express their thoughts and feelings through their work and any of these activities can be undertaken either on their own or with friends.
The tables are host to small construction toys such as wooden blocks, stickle bricks and duplo to increase control of fine movements of the fingers and hands to encourage children to learn colours, shapes and numbers.
The children's favourites presently, are the cars, fire station, airport or building blocks which they use to broaden the imagination, encourage sharing and co-operating with others and to improve their emotional and social development.
The children follow a daily routine and take part in both structured and child led activities which are observed for each child's individual record of development. The staff team and parents work together, striving for the best possible care for each and every individual child. You will receive lots of feedback on your child's day at nursery both verbally and in the form of a daily report sheet.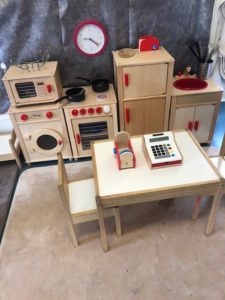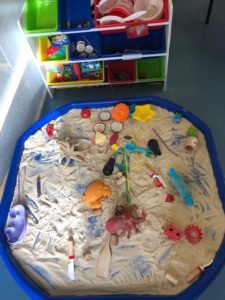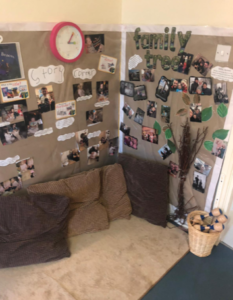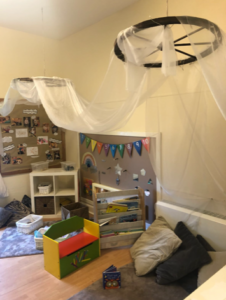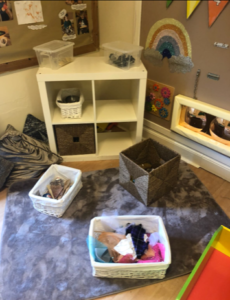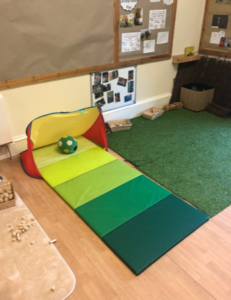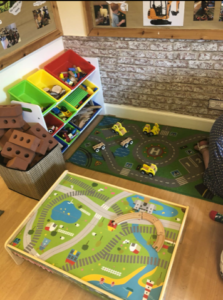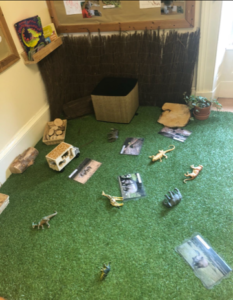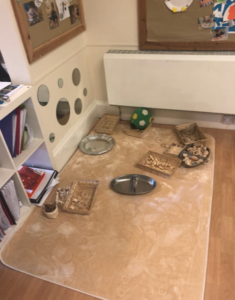 Why to choose a Hyde'n'Seek Nursery